See the video Preview of Visions of America!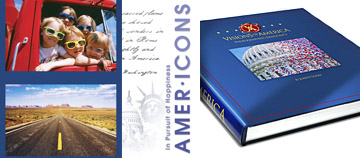 Readers Digest Edition ~ Updated for 2012!
(New edition available soon)
Visions of America addresses a single question: How do you photograph democracy? After all, democracy is an idea, and not something one can easily wrap one's lens around. But photographing democracy is indeed what Joseph Sohm has done in this epic journey across the fifty states.

To capture this country's incredible diversity, Joseph Sohm framed his national work as George Seurat might a pointillist painting. With each photograph, an individual dot was applied to his American canvas.

Spanning three decades, tens of thousands of images were assembled in what becomes a compelling mosaic. With a foreword by legendary travel writer, Paul Theroux (at right), and lyrics by two of America's most distinguished songwriters, Alan and Marilyn Bergman, Visions of America is a work of historic value and significance.

Visions of America is a perceptive work about both the photographer and the photographed. Reflecting on the wisdom of the founders, coupled with personal observations about American history, Sohm takes us on an insightful journey down the back roads and byways of the U.S., ultimately leading to a deeper understanding and appreciation of who we are as a nation and a people. Visions of America is a sweeping portrait of life in the American democracy, a portrait that shows us US, the United States.

Readers Digest Letter (PDF)


Standard Edition  &  Deluxe Edition with Sleeve
For direct sales please call (805) 649-2555.
Or order from Amazon.com   Kindle Edition  
Book Review at Amazon.com
Download sample: Chapter 6 (.pdf)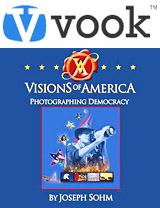 VOOK for iPad
Visions of America:
Photographing Democracy
in digital format!

A vook is a new innovation in reading that blends a well-written book, high-quality video and the power of the Internet into a single, complete story. You can read your book, watch videos that enhance the story and connect with authors and your friends through social media all on one screen, without switching between platforms.

Vooks are available in two formats: As a web-based application you can read on your computer and an application for iPhone, iPod touch and iPad for reading on the go.
Available from Vook and Apple iBookstore.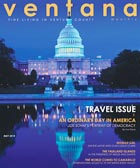 Read the reviews in
Ventana Monthly magazine

American Dream  PDF

An Ordinary Day in America  PDF






Reviews by Online Journalists & Blogs

Go to Page 2 for images of prominent enthusiasts
of Visions of America: Photographing Democracy
Go to Page 3 for more fun book related events!
Go to Page 4 for full page spreads from the book
Go to Page 5 for reader comments
Visions of America: Photographing Democracy
Hardcover: 312 pages
Publisher: Visions of America, LLC;
First edition (January 25, 2009)
ISBN-10: 0970795718 - ISBN-13: 978-0970795717
Product Dimensions: 12.1 x 12.1 x 1.5 inches
Shipping Wt: 6.3 pounds  •  

Language: English



Two versions are available for purchase:
Standard Edition  &  Deluxe Edition with Sleeve
For direct sales please call (805) 649-2555.
Or order from Amazon.com.

Download sample: Chapter 6 (.pdf)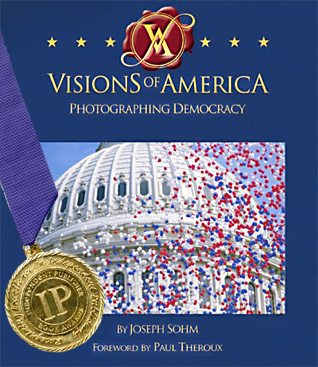 2009 IPPY Awards National Category
Gold Medal Winner: Coffee Table Books



Independent Publisher Book Awards
Recognizing Excellence in Independent Publishing


FOREWORD by Paul Theroux

Few Americans have traveled the world as extensively or written about it as perceptively as Paul Theroux. When he returned from his first ever cross-country trip just prior to this publication, he seemed ideally suited to share his Vision of America.
"These images of America are wonderful because they are iconic of course, but primarily because they are true; taken together they are a panorama of American dreams. In this sense they seem larger than life and highly colored. That is an effect of the skill of the photographer and also the beauty of this country. Any of these images of America can hold its own next to the pyramids and Petra and even the Taj Mahal.
For a copy of the book signed by the author,
send a check or money order for $75 + $10 S&H to:
Joseph Sohm 226 W. Ojai Ave. Ste. 101, #543
Ojai, CA 93023.  


Letters of praise from some
of our well-known readers:

 - the US State Dep't Office of Protocol
 - US Congressman Elton Gallegly
 - Prince Charles of Great Britain
 - Arizona Senator Jon Kyl
 - Oklahoma Senator James Inhofe
 - Secretary of State Hilary Clinton
 - President Bill Clinton

ALL Letters


Featured Comment:

What an extraordinary vision this book is… I am immersing myself in the pictures and text… Not just the vitality and message of each picture is enjoyable, but the juxtaposition of ideas is both cohesive and diverse. I turn to one set of images and think, "Oh, this is my FAVORITE!" and then keep going and find another and another and another that are literally exhilarating. I don't think he missed a single facet.

Although the picture of the service station features Wayne pumps, not Tokheim which my Dad sold; but at least that bright red Texaco star stands out. Joe Sohm has captured the essence of America in a truly heart warming vision. Many, many thank yous for the perfect gift … — Emmajane Olsen




Featured Review: The Library Journal

This is more than an amazing book—it is an epic work so breathtaking that it is nearly beyond written description. Sohm brings more than 30 years of experience and devotion as a historian, teacher, photographer, and writer to bear on this monumental pictorial work capturing the breadth, depth, and subtlety of American culture. Clearly a labor of love for American people, places, and history, the book is the expression of a lifetime, both sprawling and intimate, spanning three decades, 50 states, and 1300 images of the people and places that constitute the very heart and soul of America, from its bustling cities to its smallest farms. VERDICT: An epic achievement not only in documentary photography but also in social and cultural history, this will be a delight for the general public, scholars, and photographers. Most highly recommended.
—Raymond Bial, First Light Photography, Urbana, IL