Public Speaking
and Multimedia Presentations
Download the
Keynote Presentation Brochure (PDF)

Since 1978, Joseph Sohm has made keynote speeches and multimedia presentations to more than 100 venues across America. He is represented by Cathryn Armstrong of Experience Partners CatArmstrong@expcafe360.com 978-610-2525

Currently, Joe Sohm speaks and presents images and audiovisual modules on three subjects close to his heart:

Visions of America:
An inspirational multimedia journey through America's Past, Present and Future. Joseph's live commentary is augmented by original music, multi-projector modules, inspirational Founding Father quotes and some of Joe's best images taken over a lifetime of shooting America.

Visions of America is also the title of Joseph Sohm's coffee table book. It is an insightful journey down the back roads and byways of the U.S., ultimately leading to a deeper understanding and appreciation of who we are as a nation and a people. The book is in honor of America's 225th Anniversary of the Declaration of Independence. The book was recently released in digital format as well.

Pictures of Success — I Brake For Photographs

A live narrated multi-projector slide show featuring Joe's best images over 20 years of shooting America. Joe shares tips on cameras, film, locations and lighting tips. But more than technical tips, Joe discusses the practical and psychological tricks to getting great pictures. Photographers and non-photographers will be informed and entertained with Joe's pictures and stories.
Photographing Democracy

"I have sometimes almost wished it had been my destiny
to be born two or three centuries hence."

— Benjamin Franklin


"Journeys worth taking begin with a question. A gnawing question that won't go away, like a song that won't leave you alone. Days begin with the asking. Nights end in the pondering. I sought help from those who went before me. But neither de Tocqueville, Whitman nor Steinbeck could answer this one. It was my question and mine alone. Besides, I didn't choose it. It chose me…"

— Excerpt from  Visions of America: Photographing Democracy
by Joseph Sohm
Joseph Sohm speaking at the Apple Store in Boston, Massachusetts; January 14, 2011
"Meet the Author / Photographer" demonstration for photography "Made on a Mac"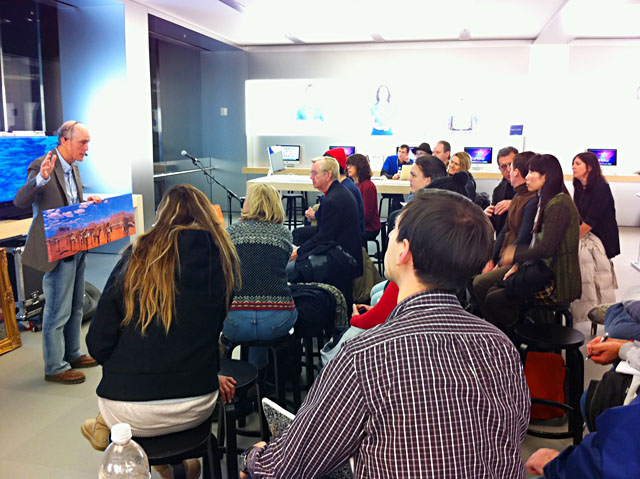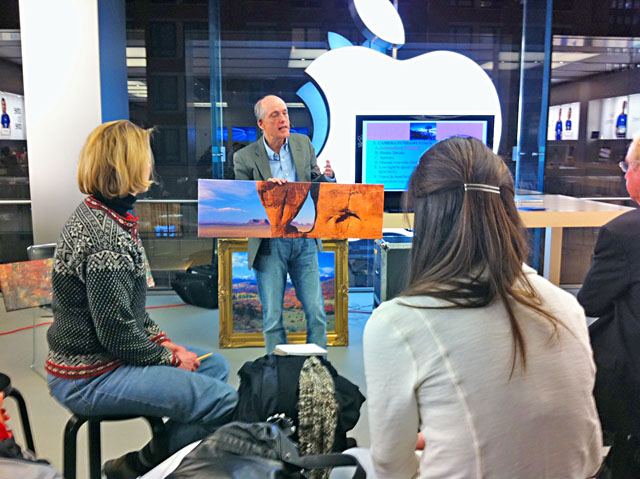 Apple Store  ~  815 Boylston Street  ~  Boston, MA 02116  ~  (617) 385-9400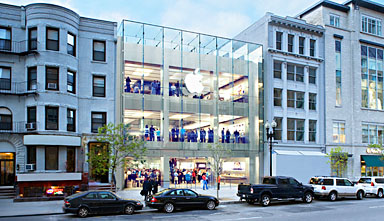 Joseph Sohm presented at the
Axial Financial Group's Client Appreciation Event
in Boston, Massachusetts; January 2011.

"Richard and I truly enjoyed Joe Sohm's phenomenal presentation that evening, and his book is absolutely spectacular!

"We were able to connect with Joe's pleasant, easy-going personality, his pictures were breathtakingly beautiful, and I was deeply moved by the video as a whole.

"CLINT EASTWOOD?? REALLY?? It just doesn't get much better. His voice added so much to the production, and made it an even more compelling narrative than it would have been otherwise.

"I feel very strongly that Joe's presentation deserves to be seen by as many people as possible. It's message makes you stop and take a moment to reflect upon how lucky we all are…I really think every American citizen should see it at least once!"
Joseph Sohm speaking (

video

) about Visions of America at the National Press Club, Washington, DC, on May 11, 2009.

The presentation was hosted by the Close Up Foundation, aired on C-SPAN2, and can be viewed on their web site

here

.

Joe Sohm speaks with Mayor Bloomberg and
former Mayor Ed Koch in this presentation at
the Museum of the City of New York.
See the letter from Mayor Bloomberg here (.jpg).
Go to Page 2 for images of Joseph Sohm speaking at major events
Go to Page 3 and Page 4 for more images


 

 Joseph Sohm's Public Speaking & Multimedia Presentations




Colleges & Universities

Amarillo College, Amarillo, TX
Brooks School Photog., Santa Barbara, CA
Broome Community College, Bingampton NY
Broward College, Fort Lauderdale, FL
Cal. Polytechnic, San Luis Bispo, CA
Clarkson University, Potsdam, NY
Clarion State College, Clarion, PA
College of St. Bennedict, St. Joseph, MN
Cornell College, Mount Vernon, IA
Dakota State College, Madison, SD
Dickinson State College, Dickinson, ND
Duquesne University, Pittsburgh PA
Florida, University, Gainesville, FL
Fort Lewis College, Durango, CO
Gettysburg College, Gettysburg, PA
Grinnel College, Grinnell, IA
Heidelberg College, Tiffin, OH
Hinds Junior College, Raymond, MS
Idaho, N. College, Coeur D'Alene, ID
Johnson Cnty Col. Overland Park, KS
Kearney State College, Kearny, NE
Loyola Marymount University, CA
Macon Jr. College, Macon, GA
Marquette University, Milwaukee, WI
Meramec Jr. College, St. Louis, MO
Messiah College, Grantham, PA
Mid-America Nazarene Col., Olathe, KS
Middle Tennessee Univerisity, Murfreesboro, TN
Mountain View College, Dallas, TX
Navajo Indian Reser., Red Mesa, AZ
Normandale Community College, Bloomington, MN
North Adams State College, N. Adams, MA
Northern Colorado University, Greeley, CO
Northwood Institute, Midland, MI
North Texas State University, Denton, TX
Ocean County College, Ocean City, NJ
Phoenix College, Phoenix, AZ
Rancho Santiago College, Fullerton, CA
Rutgers College, New Brunswick, NJ
San Antonio College, San Antonio, TX
School of the Ozarks, Ozark, MO
Southwest Mo. University, Springfield, MO
Spartanburg Method., Spartanburg, SC

St. Cloud State University, St. Cloud, MN
Texas A&M, College Station, TX
Texas Christ. University, Fort Worth, TX
Texas University, San Antonio, TX
Toledo, University, Ohio
Weber State College, Ogden, Ut
Western State College, Gunnison, Co
William Woods, Fulton, Mo
Youngstown St., University, Youngstown, OH


Trade Associations, Festivals,
Seminars and Theaters


Arts Center & Theater of Schenectady,
Schenectady, NY
Bush Gardens, Williamsburg, Virginia
California Mortgage Bankers Association, Palm Springs, CA
Captain J. Cousteau Enviromental Faire, Ventura, CA
Creativity Conference, Buffalo, NY
Democratic National Committee
First Congregational Church, Fall River, MA
Food Chain, Kansas City, MO
Freedon Festival, Evansville, Indiana
Horatio Alger Association, Washington D.C.
Human Unity Conference, Long Beach, CAa
Inside Edge Speakers Series,
Los Angeles & San Diego, CA
Lincoln Planetarium, Lincoln, NE
McDonnel Planetarium, St. Louis, MO
Museum of City of New York –
appearing with Mayors Bloomberg & Koch
National Audio Visual Association (NAVA), Houston, TX
National Bank Advisers Trade Association, Orlando, FL
National Press Club, Washington, D.C.
NEWSEUM, Washington, D.C.
(featured 30 minute interview)
Ohio Art Education Association, Cleveland Heights, OH
Planetwork International Symposium on Global Issues,
San Francisco, CA
Savings Banks Association of Maine, Colebrook, NH
Southwest Expo, Denver, CO
We the People Celebrate America, Philadelphia, PA
We the People Enviromental Symposium, Sedona, AZ
Winnipeg Planetarium, Winnipeg, Canada
Go to Page 2 for images of Joseph Sohm speaking at major events
Go to Page 3 and Page 4 for more images