About Joseph Sohm
 (Introduction)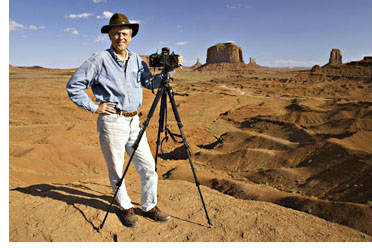 JOSEPH SOHM is an American history teacher turned photo-historian. Over 30 years, he photographed the 50 states and has published his images more than 50,000 times in such publications as National Geographic, Time, The New York Times, The Washington Post, and Wall Street Journal, as well as on CNN, ABC, PBS and MSNBC.
His photograph of President Clinton is featured on the back-cover of his book My Life and in his Presidential Library. Sohm's images are featured in Frederick J. Ryan's portrait of Ronald Reagan, The Great Communicator; in Bill Maher's Real Time; in Al Gore's Oscar-winning film An Inconvenient Truth; in NBC's 9/11 memorial, Concert for America; on the Today Show and on the cover of John Grisham's novel King of Torts.
His image was chosen for both the covers of Newsweek and U.S. News and World Report for the contested 2000 Presidential Election. The U.S. Department of State displays his work in more than ten embassies worldwide.
C-SPAN's BOOK TV aired Mr. Sohm's speech from the National Press Club in Washington, D.C. He has been a keynote speaker at more than 100 colleges, universities and trade associations across America. He and his work have been profiled in Esquire magazine, USA Today, The Los Angeles Times, The New York Times, The San Francisco Examiner and at the NEWSEUM Museum in Washington, D.C.  Sohm produced the 1993 Presidential Inaugural music-video for MTV, which aired worldwide.
Since 1978, Joseph Sohm has made keynote speeches and multimedia presentations to more than 100 venues across America. He is represented by Cathryn Armstrong of Experience Partners (catarmstrong@expcafe360.com); phone: 978-610-2525
Watch Joe's special video biography  •  View Joe's Media Clients (HTML)(RTF)

——————————————————
Joseph Sohm: In-Depth

AMERICAN HISTORY TEACHER turned Producer – Author – Public Speaker, Joseph Sohm is both student and teacher of America's past, present and future. He founded Visions of America (TM) as an ongoing multimedia project dedicated to capturing the American spirit in print and media presentations. Spanning thirty years, Sohm has traveled and photographed all 50 states. Images from his Visions of America collection are published between 8000 – 10,000 times worldwide a year and 50,000 times in his lifetime through his photo agencies Getty Images, Corbis and Alamy.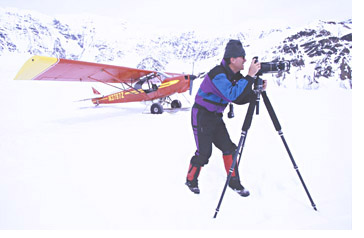 Photographer: Mr. Sohm's images of America are published daily around the world in magazines such as National Geographic, Newsweek and Time; on book covers by Simon & Shuster, Harper Collins, McGraw Hill, Macmillan and Prentice-Hall; on CD covers by Warner Brothers, Atlantic Records and CBS/Sony; and in advertising for clients such as IBM, AOL, Kodak, Delta Airlines, Microsoft, MCI, General Electric, Pepsi, Sony, Ford and Toshiba.
His images have been featured on CNN, MSNBC, PBS, Discovery, History Channel, NBC's Today Show and ABC's Good Morning America. Frontline's "The Choice 2008" on PBS featured many of his Presidential images. On December 18, 2000, his image of the US Constitution appeared on the presidential election covers of both Newsweek and US News and World Report. His image of the US Capitol was featured on the cover of John Grisham's book, King of Torts.
His images are exhibited at American Embassies for the U.S. Department of State, New York's Neikrug Gallery, the Ira Roberts Gallery in Los Angeles, First Boston Corporation and have been displayed in Bill Gates personal home on flat-screen digital displays. His images are featured in former Vice President Al Gore's Oscar-winning An Inconvenient Truth feature film and lecture, in Night at the Museum: Battle of the Smithsonian, and in the opening sequence of Bill Maher's Real Time on HBO.
In 2008, Bank of America used Sohm's image for the Official Credit Card for the US Olympic Committee and the summer Olympics. On July 3-4-5, 2008, his work was featured throughout Washington D.C.'s NEWSEUM Museum, which included a thirty minute TV interview with Mr. Sohm. On June 23, 2008, he was a featured speaker at the Museum of the City of New York, where he followed Mayors' Michael Bloomberg and Ed Koch.  (List of Photo Clients (.rtf))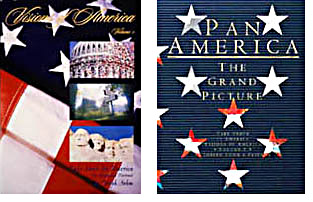 In 1996 he published Visions of America, the world's first global stock photography catalogue on America, and the first by one photographer. The catalogue is represented in 36 nations and received a Creative 26 Award of Distinction. In 2000, he published Pan America with Corbis Images (owned by Bill Gates) — the first panorama stock catalogue exclusively on America.
For Vice President Al Gore's 2000 Democratic National Convention, he was the Official Image Supplier of Americana photographs for worldwide news coverage, network convention broadcast and live Internet broadcast. On September 11, 2002, in memory of 9/11, his work was featured throughout NBC's network television broadcast of Concert For America, attended by President Bush. His images are featured throughout President Clinton's Presidential Library, as managed by the National Archives of the United States, and on the back cover of President Clinton's top-selling Presidential biography, My Life. Joseph is an ongoing contributor to the non-partisan charitable foundation, Close Up Foundation, a Washington, D.C. non-profit that brings students from across America to see, close up, how the U.S. federal government works. He serves as a Director on the Board of the Museum of Democracy in New York City and the New West Symphony in California.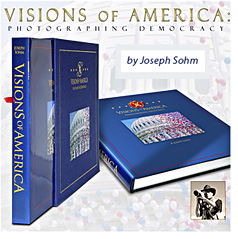 Author – Producer:  In 2009, Joseph Sohm wrote and published Visions of America: Photographing Democracy (purchase), a 312 page tabletop book featuring over 1300 of his images taken across the 50 states. The book features 21 of Sohm's essays and a foreword by legendary travel writer, Paul Theroux. The book won the 2009 Gold Medal IPPY Award for best coffee table book in the Independent Publisher Book Awards. It was also featured in a presentation at the National Press Club that aired on CSPAN's Book TV on June 27 and July 4, 2009.
Sohm also wrote a script that Clint Eastwood read for his Photo-Symphony based on the book, Visions of America.  The original symphony concert featured a 66-piece orchestra conducted by two-time Grammy-winner Peter Nero and the Philly Pops. The 66 minute score featured the music of Oscar-nominated and Grammy winning Roger Kellaway, and two songs by Oscar-Grammy-Tony winners, Alan and Marilyn Bergman. The songs were performed by 2008 Grammy winner Patti Austin.
All five concerts featured Mr. Sohm's photographs as they were projected onto a 30 foot screen over the orchestra. The five concerts were performed at Kimmel Center/Verizon Hall for a total of 12,500 people. The concert was introduced on video by Pennsylvania Governor Ed Rendell and attended by Philadelphia Mayor Michael Nutter. The concert is currently being prepared for future symphonic presentations across America. The Concert was produced and photographed by Mr. Sohm.

. . .
For President Reagan's U.S. Commission on the 1987 Bicentennial of the Constitution, Sohm was commissioned to photograph and produce two touring multimedia shows for Merrill Lynch and Philadelphia's We The People. NEWORLD featured the narration of William Shatner and performed at colleges and universities across America.
The 1993 Presidential Inaugural Committee commissioned Joseph to create, produce and photograph President Clinton's Official Inaugural Video. Featuring the music of Michael Jackson and David Crosby, Portrait of Change aired on worldwide television including MTV, CNN, CBS, NBC, BBC, Dutch and Japanese television. He conceived President Clinton's favorite Inaugural Program, Bells of Hope, which featured bells ringing across America, around the world and even in the Space Shuttle orbiting Earth.
In 1996, Close Up Foundation commissioned Joseph to produce their 25th anniversary music video. Entitled Voices For Tomorrow, the video premiered live to leading members of the U.S. Congress, C-Span's CEO Brian Lamb and ABC correspondent Cokie Roberts. In 2005, he premiered his new music video, We The People, co-written by the Academy Award winning songwriting team of Alan and Marilyn Bergman, and Grammy Award winner Roger Kellaway. In 2005, the music video premiered in Washington D.C. on large screens for members of the U. S. Congress and members of both the Clinton and Bush Administrations.
In 2000, Joseph conceived, photographed and wrote an essay for NY Times best-selling author, Marianne Williamson. Published by Rodale, IMAGINE – What America Could Be in the 21st Century sold out of its first print run of 125,000 copies. Essays by Deepak Chopra, Wayne Dyer, Neale Donald Walsch and Thomas Moore are featured. He wrote a feature-length screenplay (Silver Medal Winner in the Houston Film Festival) under the direction of Academy Award Winning Film Director Robert Wise (Sound of Music and West Side Story) and a script starring actor William Shatner (Star Trek, Boston Legal).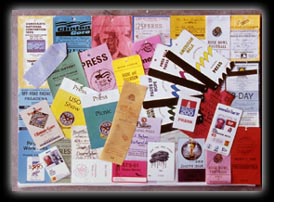 Public Speaker:  Joseph Sohm is represented by Cathryn Armstrong of Experience Partners (catarmstrong@expcafe360.com); phone: 978-610-2525. He has made more than 100 lecture appearances across the United States at universities, colleges and trade associations. He has been featured as a speaker with Mayors Michael Bloomberg and Ed Koch in New York City and with FDIC Chairman, William Seidman.
As a member of the press, he has been featured in the LA Times, New York Times, San Francisco Examiner, St. Louis Post Dispatch, C-SPAN and on Century Cable in Los Angeles. In 1998, the Japanese edition of Esquire profiled Joseph for an endorsement of Casio watches. More recently, he has been featured twice in Lexus magazine.
He is a graduate of the University of Missouri with a B.S. in American History and was awarded a Gold Medal in the New York International Film Festival. He was chosen by Audio Visual Communications magazine as one of 10 "Communicators of the Year." He has served as a Board Member for the Washington, D.C. based Earth Force, for the New York City based Museum of Democracy and in Ventura County California, for the New West Symphony. Mr. Sohm resides in Ojai, California with his wife Leslie.
Please explore the Visions of America Image Gallery  (Flash), which features many examples of Joseph Sohm's lifetime photographic journey across America.


Examples of Joe's images in use:
Los Angeles Times: Image of B-52s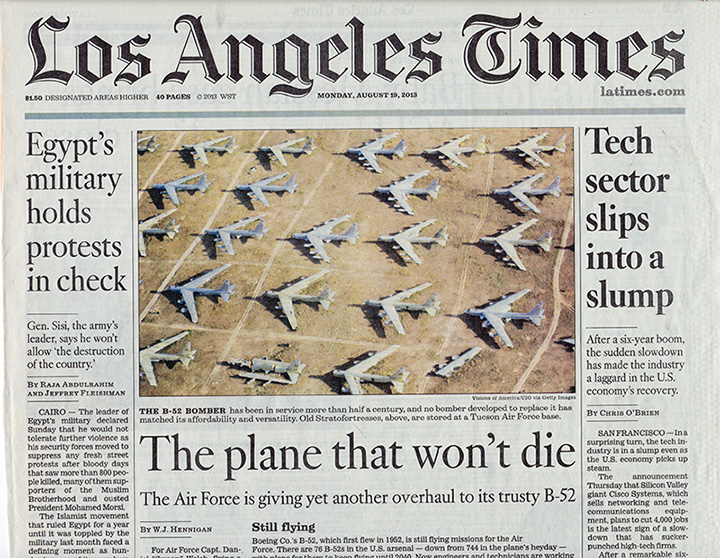 Alaska Airlines: Chicago Skyline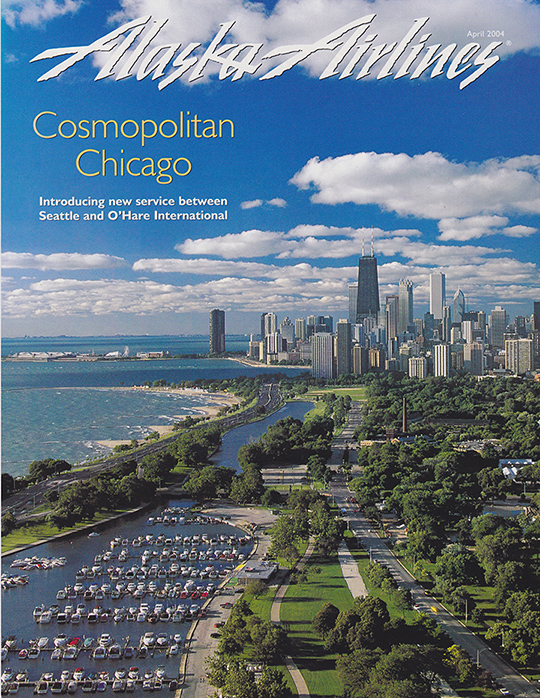 The Territory Ahead catalog: Colorado Scenery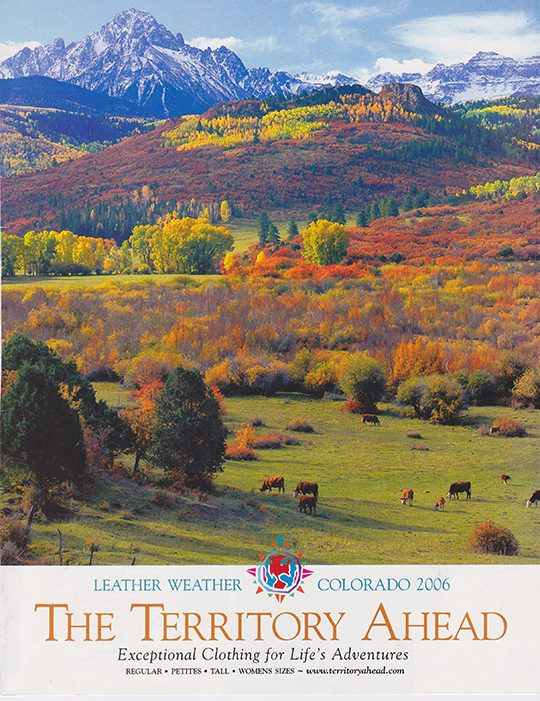 Los Angeles Times Travel section: Traditional South Carolina home