Book  1  |  2  |  3  |  4  |  5

See the Preview of Visions of America!




Just some of the people who've
been enjoying the book recently: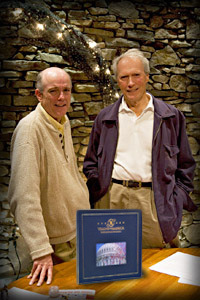 Joe Sohm and actor/director Clint Eastwood prepare to record audio segments for the Visions of America presentations in-studio in Carmel, California.


Joe Sohm discusses Visions of America with US Senator Barbara Boxer, actress Mary Steenburgen and actor Ted Danson.


Philadelphia Mayor Michael Nutter reviews
Visions of America with author and photographer Joe Sohm
Back to Page 1
Go to Page 3 for more fun book related events!
Go to Page 4 for full page spreads from the book
Go to Page 5 for reader comments
Visions of America: Photographing Democracy
Hardcover: 312 pages
Publisher: Visions of America, LLC;
First edition (January 25, 2009)
ISBN-10: 0970795718 - ISBN-13: 978-0970795717
Product Dimensions: 12.1 x 12.1 x 1.5 inches
Shipping Wt: 6.3 pounds  •  

Language: English



Two versions are available for purchase:
Standard Edition  &  Deluxe Edition with Sleeve
For direct sales please call (805) 649-2555.
Or order from Amazon.com.

Download sample: Chapter 6 (.pdf)

FOREWORD by Paul Theroux

Few Americans have traveled the world as extensively or written about it as perceptively as Paul Theroux. When he returned from his first ever cross-country trip just prior to this publication, he seemed ideally suited to share his Vision of America.
"These images of America are wonderful because they are iconic of course, but primarily because they are true; taken together they are a panorama of American dreams. In this sense they seem larger than life and highly colored. That is an effect of the skill of the photographer and also the beauty of this country. Any of these images of America can hold its own next to the pyramids and Petra and even the Taj Mahal.
I know this is true, because I recently drove cross-country for the first time, and – even though I have been traveling for my whole adult life through the wider world – I was overwhelmed. That's the main reason these images give me pleasure: because they accurately represent this great land.
Traveling through the canyons outside Sedona, Arizona, I thought: I have never seen anything so hauntingly beautiful – such colors, such grandeur – and wished I'd had a camera. I felt this way in sun-baked New Mexico, and in the expanses of Texas, in wooded Arkansas and in the gentleness of Tennessee; the Gettysburg battlefields and the vegetable patches in Amish country, where young girls in bonnets were hoeing weeds, next to their straw-hatted fathers. Words failed me.
"It is very hard to portray an icon in words. The writer's personality keeps intruding; photography is a happier medium. Joseph Sohm has an unblinking eye and a gift for summing up a whole complex mood in a single shot. There is a great deal of love in his photographs and words, but dedication too. The hardest landscapes of all to photograph – or to write about – are those that are familiar to us. There are many great travel books about Africa and India – far fewer about the United States. I think this is because one cannot travel in the United States as one travels elsewhere.
True, Steinbeck's Travels with Charlie and William Moon's Blue Highways are models of American travel, but somehow the open road is more suited to pictorial reporting. I sometimes think that every mile of America is different, even in the desert of west Texas and in the plains – a quality of light that varies, the clouds, the vegetation, the crops, the house styles, always changing.
"The great value of this project is in its achievement in taking familiar images and making them live, making them memorable, usually by introducing the human element – the man standing on Lincoln's head at Mount Rushmore is a good example. I was moved by the intensity of the color and light throughout, and began to think how America is a destination, not a stepping stone or a passageway, but a place people seek, to stay for good, to raise families and vow never to leave. Studying these iconic images, it is easy to see why this is so."

— Paul Theroux
For a copy of the book signed by the author,
send a check or money order for $75 + $10 S&H to:
Joseph Sohm 226 W. Ojai Ave. Ste. 101, #543
Ojai, CA 93023.