Concert  

1

 |  

2

 |  

3

 |  

4

 |  

5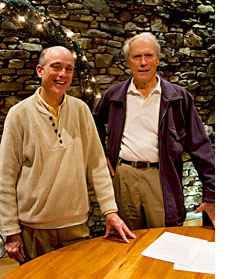 PERFORMERS: Clint Eastwood
We are grateful to have had Clint Eastwood become part of the Visions of America experience by providing extensive narration for our multimedia projects.

Clinton "Clint" Eastwood, Jr. is well known as an actor, film director, film producer and composer. He has received five Academy Awards, five Golden Globe Awards, a Screen Actors Guild Award and five People's Choice Awards—including one for Favorite All-Time Motion Picture Star.
Mr. Eastwood is primarily known for his tough guy, patriotic American, anti-hero acting roles in action films, particularly in the 1960s, 1970s, and 1980s. Following his role on the long-running television series Rawhide, he was cast as the Man with No Name in the Dollars trilogy of spaghetti westerns and as Inspector Harry Callahan in the five Dirty Harry police dramas, which have made him an enduring icon of masculinity. Eastwood is also known for his comedic efforts in Every Which Way but Loose (1978) and Any Which Way You Can (1980), his two highest-grossing films after adjustment for inflation.
For his work in the films Unforgiven (1992) and Million Dollar Baby (2004), Eastwood won Academy Awards for Best Director, producer of the Best Picture, and received nominations for Best Actor. These films in particular, as well as others such as Paint Your Wagon (1969), Play Misty for Me (1971), The Outlaw Josey Wales (1976), Escape from Alcatraz (1979), In the Line of Fire (1993), The Bridges of Madison County (where he played photographer Robert Kincaid) (1995), and Gran Torino (2008) have all received great critical acclaim and commercial success. He has directed many of his films, and has also found success in others in which he has not acted such as Mystic River (2003).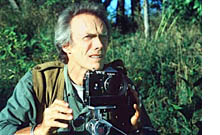 Mr. Eastwood will be directing the Nelson Mandela bio-pic Invictus, a film based on a 2008 book by John Carlin (Playing the Enemy: Nelson Mandela and the Game that Made a Nation - ISBN 978-1-59420-174-5), starring Morgan Freeman as Nelson Mandela and Matt Damon as rugby team captain Francois Pienaar.
He also has an interest in politics, serving as Mayor of Carmel-by-the-Sea, California, from 1986 to 1988.
In this photo, Clint Eastwood appears in The Bridges of Madison County as photographer Robert Kincaid..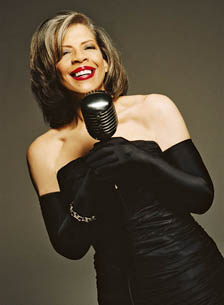 PERFORMERS: Patti Austin
Two new songs specifically written for the Visions of America premiere were performed by Grammy Award-winning vocalist Patti Austin.

A professional since the age of five, Patti Austin was a protégé of Dinah Washington and Sammy Davis, Jr. A 1969 single for United Artists titled "Family Tree" cracked the R&B Top 50.
She made her debut at the Apollo Theater at age four and had a contract with RCA Records when she was only five. Quincy Jones and Dinah Washington have proclaimed themselves as her godparents.
By the late 1960s Austin was a prolific session musician and commercial jingle singer. During the 1980s, signed to Jones's Qwest Records, she began her most prolific hitmaking period. She charted twenty R&B songs between 1969 and 1991 and had success on the Hot Dance Music/Club Play chart, where she hit number one in 1981 with "Do You Love Me?" / "The Genie".
The album containing that hit, Every Home Should Have One, also produced her biggest mainstream hit. "Baby, Come To Me," a duet with James Ingram, initially peaked at number 73 on the Hot 100 in early 1982. After being featured as the love theme in a prominent storyline on the soap opera General Hospital, the song re-entered the pop chart in October and went to number one in February 1983. The single was certified Gold by the RIAA. She would later team up again with Ingram for "How Do You Keep The Music Playing".
That year, Austin's single "It's Gonna Be Special" was featured on the soundtrack for the Olivia Newton-John/John Travolta film Two of a Kind. Though the film was not the major success envisioned for the re-teaming of the Grease stars, the soundtrack went Platinum and Austin's single, produced by Quincy Jones, became one of her highest-profile hits. "It's Gonna Be Special" peaked at #5 on the Dance charts, #15 on the R&B charts, and charted on the Hot 100 in 1984. The song also appeared on her self-titled album of that year, and its follow-up, "Rhythm of the Streets", remixed by John "Jellybean" Benitez, narrowly missed Billboard's Dance Top Ten, though it peaked higher on Hi-NRG charts. The two songs were featured on a double-A-side 12" single. For "Rhythm of the Streets" Austin shot her first music video.
Striking while the iron was hot, Austin released her third album in three years, Gettin' Away With Murder. In addition to the title track, she had two more hit singles, "Honey For The Bees" (#24 R&B and #6 Dance) and "The Heat of Heat". Produced by Jimmy Jam & Terry Lewis, noted for their later work with Janet Jackson, the latter track returned Austin to the top 15 of the R&B charts for what would be the last time to date. It would also be her last Hot 100 charting to date, and scored on the Dance charts.
Austin took a step back in time from the cutting edge of music for her first featured acting role, appearing with Jeff Bridges and Joan Allen in Francis Ford Coppola's critically acclaimed period piece Tucker: The Man and his Dream (1988). That year, Austin released The Real Me, a collection of standards which garnered her the first of several Top 10 showings on the Jazz Albums chart.
She sang the duet "It's the Falling in Love" with Michael Jackson on his album Off The Wall. Other duet partners include George Benson ("Moody's Mood for Love" and "Keep Your Dreams Alive"), and Luther Vandross ("I'm Gonna Miss You In The Morning"). In 1985 she sang lead vocals on a collaboration with her producer, Narada Michael Walden, and the single, "Gimme Gimme Gimme", went top 40 on the R&B charts.
In 1991, she recorded the duet "You Who Brought Me Love" with music legend Johnny Mathis, which was received with critical acclaim. That same year she was invited to be a guest on a Johnny Mathis television special that was broadcast across North America.
Austin led a new group of Raelettes for the 2006 album Ray Charles + Count Basie Orchestra = Genius². That group also featured veteran session singer Valerie Pinkston and members of the group Perry.
During a 2007 interview promoting her latest recording, Austin reflected how as a teenager she reluctantly attended one of Judy Garland's last concerts and the experience helped focus her career, stating "She (Judy Garland) ripped my heart out. I wanted to interpret a lyric like that, to present who I was at the moment through the lyric." In 2008, fifty-three years after getting her first record contract, Patti Austin was awarded her first Grammy, winning Best Jazz Vocal Album for Avant Gershwin at the 50th annual Grammy Awards. The award came for her ninth nomination in that category.